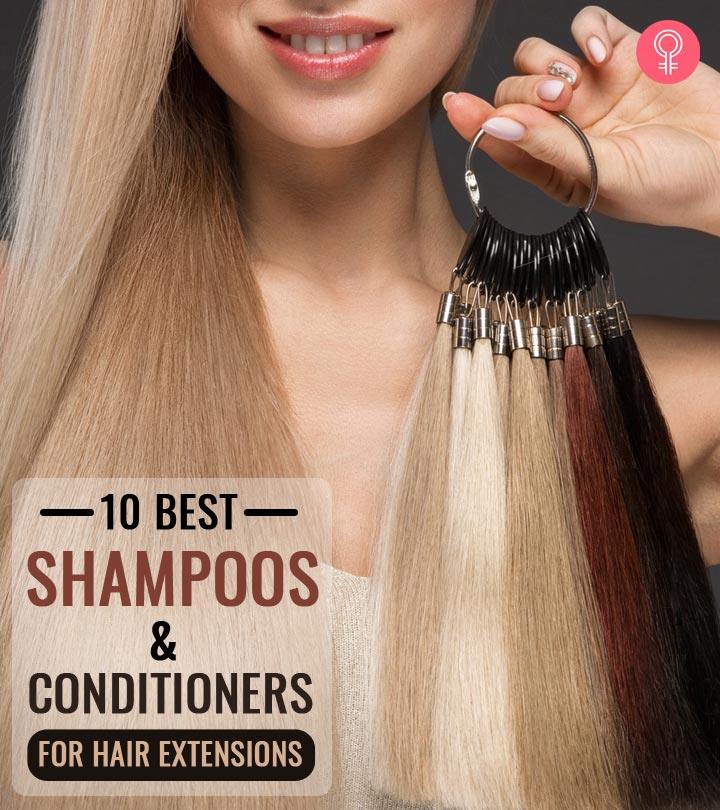 Many women use hair extensions regularly or wear them for extended periods. So, it's very important to know how to completely take care of your new tresses and get the most out of them, keeping hair looking nice and shiny. But using regular hair products on hair extensions can damage them and reduce their lifespan. Hence, you need to know that what products to use before and after every wash. Listed below are the top 10 shampoos and conditioners to use on your hair extensions
The B3 Brazilian Bondbuilder Trio Set is designed to help you care for your extensions. B3 Brazilian Bondbuilder Trio Set is great for your natural hair as well as your extensions. This Trio pack consists of a shampoo 12 oz, conditioner 12 oz and a 4.75 oz of Ionic Extension Refresh. This shampoo is a multi-active cleanser formulated to meet the unique needs of natural and extension hair. Conditioner helps prevents debris from collecting at the extension anchor, allowing natural lipids to restore vitally for a seamless look. The Ionic Extension Refresh, detangles, fills in damaged areas and seals cuticles to cut drying time and prolong extension life.


2. Mermaid Extension Care Travel Kit
Mermaid products are 100% Organic, Vegan and have a tropical citrus scent. Mermaid extension care travel bag is one of the best product with all necessary extension hair care. Mermaid extension care travel kit Contains 2 oz Extension Shampoo, 2 oz Conditioner, 2 oz Seatox Clarifying Shampoo, 2 oz Firm Hold Spray, small hairbrush, 2 oz Dry Shampoo, Clear acrylic bag. They don't contain parabens This kit is very easy to take enywhere.


3. The Hair Shop 909 Shampoo and Conditioner Kit
The hair shop 909 shampoo and conditioner kit, infused with silk amino protein, for 100% remy human hair extensions and wigs (12 oz). Shampoo and Condioner Both Contains Silk Amino Protein Helping to Lock In Moisture and Adding Shine and Strength. It is recommended to use the conditioner mid-way down until the ends.
4. ProStyles Wig and Hair Extension Care Pack
The ProStyles Wig and Hair extension Care Pack comes with a shampoo, a conditioning rinse, and a conditioning spray. The 3 Step Process is designed to prolong the life of your wigs and hair extensions, leaving them glossy, soft and manageable. The prostyle extension care pack is Suitable for Synthetic Fibre and Human Hair.
5. Hairtalk Extensions Set
This set of professional hair care products will balance moisture, improve manageability, and keep your hair luscious looking and feeling healthy. Hair Essential Hair Care set includes everything needed to properly care for hair extensions.  It is gentle enough to be used daily on the scalp and hair. Cleanse Shampoo 8 oz  has been specifically formulated to meet the needs of hair extensions without stripping it of hydration and nutrients. Nourish Conditioner 8 oz can be rinsed out or worked into damp hair after washing.
6. Beautimark Shampoo And Conditioner For Synthetic Hair
Extend the life and beauty of your synthetic hair with BeautiMark Paraben-Free Hair Care Products.  Formulated free of toxic parabens. Gently cleanses and clears away dulling residue. The conditioner uses a lightweight formula that nourishes and detangles hair
7. X-10 Hair Extension Care Set
The X-10 Hair Extension Care Set comes with a  deep cleansing shampoo and a rich creamy conditioner. X-10 Hair Extension Care Set  has everything that you need to ensure that your pre-bonded or clip in hair extensions stay in tip-top condition.
8. NYK1 Keratin And Color Aftercare
The NYK1 Keratin And Color Aftercare Set provides you fuller-looking hair. Shampoo and Conditioner sets get rid of the Dirt, Oil and Frizzy causing oily sulfates to leave your hair SMOOTH, FRIZZ FREE, SOFT and SHINY. This keratin shampoo and conditioner also works well for color-treated hair and will help keep the color strong and vibrant for much longer.
9. RemySoft blueMax Protection Daily Refresher & Serum Set
The RemySoft bluemax Protection Daily Refresher &Serum set comes with a leave-in conditioner and protective silicone serum for hair extensions. Its a quality hair care formulated to coat and seal the hair shaft while offering outstanding UV Protection. leave-in-conditioner helps smooth hair and guards against the damaging effects of the sun without heavy product build up. This set is Safe for hair extensions, weaves and wigs.
10. RemySoft Moisturelab Hydrating Cleanser And Recovery Cream Duo
The RemySoft Moisturelab Hydrating Cleanser and Recovery Cream  help to reduce fizziness of hair and rejuvenate dry hair. this set enriched with exotic fruit and berry extracts, which intensely condition your hair. RemySoft Moisturelab Hydrating Cleanser Formulated safe for use on natural hair, wigs, weaves, hair extensions and hair systems.